Another busy week at my growing empire lol, firstly we had the arrival of a zillion Inka Secret Blend cigars which we have been patiently waiting for over the last few weeks.
I started this project off some time back by testing many blends to see if I could settle on a blend that I would be satisfied with (Believe me I am very fussy!) It was interesting as there are no other Peruvian cigars on the market, so nothing to compare with and the flavours are quite unique. Closer to a Nicaraguan in strength but a unique full flavour that is balanced and smooth. Good smooth vein free wrapper and exceptionally good construction.
We tested out a few popular sizes and made a funky little figurado as well and were quite staggered by the customer feedback which was exceptionally positive. The acid test was not whether we could sell out fast but whether clients would re-order, which they most certainly did, faster than expected! We noted just 1 complaint from a client who disliked the blend whish was pretty good going overall!
So we decided to extend the range substantially and order in a huge quantity to satisfy demand as well as introduce vitolas that our clients were telling us they wanted.
The new sizes are Bombaso (The Bomb!) 4" length by a huge 60 ring gauge (Large enough to keep a big mouth like me quiet!) which I have produced in both medium and long filler in a natural and maduro wrapper. The maduros are sweeter tasting and the naturals are less sweet and more woodsy. We then produced some quick smoke sizes, a chico that is 4 ½" length by 30 ring gauge and a tres petit corona 4" length and 40 ring gauge.
View the Inka information and price list PDF here.
You can see the full range on the website available in singles, sampler packs and packs/boxes of 10 cigars. You can also find Inka cigars at all of our retail cigar stores at the same mail order/internet prices (You can sample in store as well – Where legal) You won't find them anywhere else in the world as they are exclusive to C.Gars Ltd!
Inka cigars are great value but don't confuse them for a 'cheap' cigar or an inferior cigar. All Inka Secret Blend cigars are completely rolled by hand. The tobacco we use is 100% Peruvian and correctly and properly fermented to bring you a rich smooth smoking experience.
Auction catalogues are at the printers! (Finally!!) and expected to be posted out to clients on Friday. You can also view Lots online on our auction website
Just over 3 weeks to go before our pre auction herf at Ten Manchester Street and the main event at Boisdale Belgravia. 
Over 300 Lots of interesting  aged/mature/rare Havana cigars will be knocked down on the night and no doubt some bargains will be had. We'll be doing a Balvenie whisky tasting paired up with some great English Market Selection Havanas. Canapés by the Boisdale chefs and the best of company from all over the world should make this the best cigar event of the season. If you need any advice that you can't find on the FAQ page of the auction site just shoot me an email sales@cgarsltd.co.uk we are always happy to advise and provide specific Lot condition reports.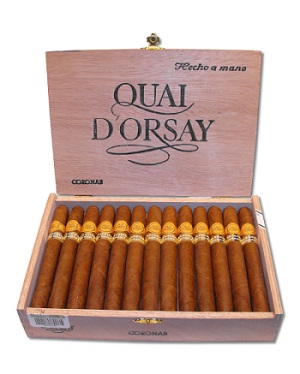 I had dinner at Boisdale Belgravia last Monday night and the restaurant was heaving full (No recession there then!) food and service was better than ever. Had a Quai D'Orsay Corona Orchant Seleccion followed by a Ramon Allones Petit Belicoso on the terrace. Entertainment was provided by the next table of chaps from Kuwait who were singing all evening… Marvellous(!)
I've also been spending some time up in Cambridge as we have now started building our new Robert Graham whisky and cigars shop which is due to open late November. Alcohol licence granted a few days ago – So far so good. The shop straddles two streets so we will have a lovely outdoor seating area to the pedestrianized street well as an indoor sampling lounge and easy parking to the other street. I can't wait to stock up the walk in humidors as we are planning to have one walk in humidor with the largest range of singles in the UK and another walk in humidor with full boxes/cabinets/jars and humidors. I think that could be a first in the UK.
That's all the news for now – I'm off for a dram or two of Robert Graham Tobermory 1996 bargain at 35 quid!… Whilst stock last 🙂
Have a smokey weekend
Peaceful puffing