Just recovering from a most brilliant week in Orlando for the annual IPCPR trade show (previously called RTDA). The scale of the show is incredible to say the least with a seemingly never ending amount of exhibitors from new brands to established brands, all showcasing their products.
It's not only an opportunity of catching up with new products but also old and new friends from all over the world who use this as an annual meeting place for the cigar industry, much like I do at the annual Habanos Festival. I met up with friends from Europe, The Far east and of course from all over the USA.
The exhibition started in the morning and went on until 5pm but as soon as the trade show closed the sponsored parties began and I decided this year to attend as many as possible! The whisky and Cigar pairing with Richard Paterson from Dalmore was interesting and entertaining and the Diamond Crown party at Corona Cigars was outrageously good! The Alec Bradley party was a bit loud for an old boy like me but still fun and it went on and on like day after day!… after the parties we moved on to the fabulous Corona Cigar Company at Sand Lakes or Downtown. Superb shops and excellent hospitality. Thank you Jeff and Tanya for making me so welcome.
Highlights of the show for me included:
Palio: New Palio single flame jet lighter to be released very soon. Designed with the cigar smoker in mind, this lighter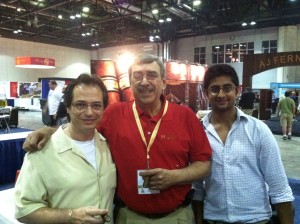 comes in 3 finishes and is not only chic but is exceptionally reliable having been tested thoroughly and extensively.
Calibre digital hygrometers: There is a new Calibre hygrometer that we will be introducing in the next month or so that is the calibre IV and can be calibrated. There is also a digital dial Calibre hygrometer that we are also looking forward to importing.
Daniel Marshall humidors: One of our recommended ranges of humidors, high quality workmanship and made in the USA, we will be increasing range over the coming weeks.
Elie Bleu: This outstanding range of humidors was mouth wateringly show cased and a new mid range humidor will be added to our range in the next few weeks
Cigar Journal: Colin and Reinholds Awards party was simply brilliant fun. There were very sincere and very funny award acceptance speeches but it was a great crowd and a great evening
Smoke Magazine: Always great to catch up with the Bob, Ted and the boys from Smoke
CigarandSpirits: A relatively new magazine that our friend Nick Hammond has been a guest writer on. Great quality publication and we wish them the best of luck
Jose Blanco: One of my hero's in the cigar trade, always great to catch up with him for a chat. Currently at Joya de Nicaragua and has created one of the best blends I have ever smoked with the Cuenca y Blanco. Sweet, smooth, round and balanced, exactly what I love in a premium cigar.
Torano: we were lucky enough to have Torano make our Nicaraguan petit coronas and robustos for our exclusive C.Gars Ltd Seleccion in fact we have been quite surprised at how popular these cigars have become so we are planning to introduce a range of Torano cigars to the UK during October this year
Inka Secret Blend exclusive to C.Gars Ltd: I worked with the owner of the cigar factory and plantation in Peru for almost a year until I was happy with the blend of tobacco for this range of cigars that we have created and even I am surprised by its popularity and the quantity of repeat orders. I tried to create a blend that was full flavoured but not full strength, smooth but with a bit of a zing quality and character to the flavour. Add to that a smooth wrapper and excellent construction and it looks like we have a winner. So we have ordered another 5000 boxes to be made soonest to satisfy demand and I have also created additional vitolas for this brand. If all goes to plan, we will be launching the brand in the USA in the next 3-6 months. The only Puro from Peru.
Bandolero: These cigars were great value and great smokes and the tins they are packaged in are really cool so I'll be adding these to our range very soon.
Fuente: The Cigar family stand was splendid as usual and it's such an honour to be their distributor in the UK. Its taking us time to get the range right for our UK market but so far so good and sales seem to be taking off with some pace now. If you want a first rate alternative to a Havana you really need to look at this range of cigars. Always good to see my old friends Tony and Jake.
Gurkha Cigars: Great to catch up with my old friend Gary Hyams now running the show at Gurkha where it looks like he has shaken up the range big time. Packaging is superb, prices look highly competitive and if appearance is anything to
go on, I will be in for a treat when I test out the blends over the next week or two. We are looking to introduce a range of Gurkha to the UK before Christmas.
Regius cigars: Another first rate Nicaraguan cigar that we highly recommend. I smoked my way through quite a few cigars with Akhil from Regius at the show and I'm looking forward to potentially introducing some new and exclusive C.Gars Ltd Regius cigars over the coming months. Try out the robustos – You won't be disappointed, I smoked 3 back to back to test blend integrity and they were splendid.
The above are only a few highlights of a fabulous week of herfing with so many cigar chums that I have known since 1994 including Bobby, Jenn y Craig, Mango Joe, Alka Seltzer, Lightning Rob, George and many many others. Looking forward to next year's show in Las Vegas!
So now I'm in Los Angeles spending some time herfing the cigar samples from the show at the pool and trying to decide what to bring to the UK next – Tougher job than you may think. If you follow me on Twitter or Facebook you will see what I mean 🙂
Peaceful puffing
Mitchell