I am delighted to announce that we are now accepting orders for the long awaited latest and rather splendid Bolivar Britanicas UK regional edition. This is a limited edition of 3000 numbered boxes exclusive to the UK.
Stocks are expected to arrive very early next week and we will be shipping immediately thereafter.
I tested out the blend on the new Bolivar last month in Havana at the first tasting organized at the annual Festival del Habanos and I truly thought that this cigar was first rate.
The size is great at 5 3/8″ length and 48 ring gauge, the wrappers are smooth and dark colorado maduro and the flavour was full with hints of sweetness and spice throughout. Not one for the novice but the experienced cigar smoker will enjoy this cigar immensely.
Available at pre-release prices this week as follows:
Please order early as there has been huge demand for this cigar and there will be limited allocations. As ever we guarantee best prices in the UK.
I received this email from a good friend and long-time client of C.Gars Ltd and thought I would share it with my blog readers…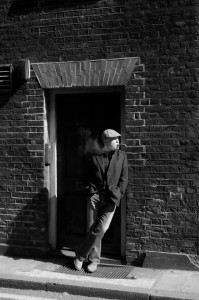 This photo was taken on Saturday 24th March after I'd just popped into the Mayfair Turmeaus shop to pick up a sampler I'd ordered. 
It was an amazingly sunny day with just a hint of haze to it.  Whilst in the shop I couldn't resist picking up a Partagas No2.  I fired it up in the street outside the shop and me and Mrs B started to walk towards Green Park. 
Not very far down White Horse Street, Mrs B (an avid photographer) told me to stand across the road in a doorway as she said the light coming down the street was really impressive and a good opportunity to get a 'candid' cigar smoking moment shot. 
Of course, I obliged!  When I'm 'fired up' I don't need much persuasion to pose with my smokey friend!
The magic of the moment was when a chap passed by and turned back to say, 'That cigar smells excellent.'  I asked him if he smoked cigars but he told me he didn't, although, he loved the look of the Turmeaus shop where I told him I'd bought the cigar. 
I did the decent thing and offered him a puff on this fine cigar and, to my surprise, he duly accepted.  He drew on it like he'd been smoking them all his life, taking in a good gulp of smoke, and then letting it ease out and up into the air. He took another puff and passed it back to me.
We shook hands and he went on his way saying he would check out the shop some time.
My point is, in my humble opinion, Cigar Smokers (and those who aspire to become one) are some of the nicest people you will ever meet (ok, maybe Al Capone might me an exception – I'm sure he was nice to his mother!), and a fine cigar can bring together complete strangers to share a sublime moment.
Ciao!
Mark B
The real Boss of C.Gars Ltd – Michelle (!)  our General Manager is finally back from her sunny cruise vacation tomorrow – thank goodness! So I'll be back to my travelling and herfing routine from next week!
Peaceful puffing
Mitchell