Dip 2's? first rate !
It's been an interesting weekend as I decided to do a blind taste test between Friday and Sunday on the same 3 cigars and rate them.
The cigars were a Monte 2.Upmann 2 and Diplomaticos no.2
Michelle numbered 3 piramides 1,2 and 3 but I (obviously ) didn't know which cigar was which.
All the cigars were 2007's.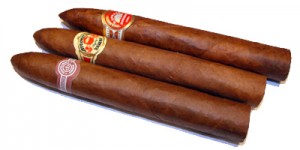 Happy to report that I managed to identify all three cigars correctly ( good start!) on all three days but was surprised to find that on all three days the highest rated cigar was the Diplomaticos no.2
Now,there was nothing wrong with the Upmann 2,in fact 2007's are the best vintage I have found in this cigar but it was a bit"tart" in comparison to the other two and I generally enjoy a smoother smoke.The Monte 2 was a great smoke as well but lacked the depth/.complexity of the Dip 2.
So there you have it,after a lifetime of having the Monte 2 as my favourite piramides I can honestly say the Dip 2 for my palette at least was a better smoke.
Lasts weeks travels took me to on a tour around my whiskey and cigars shops in Scotland http://www.whisky-cigars.co.uk/ where I enjoyed smoking the new La Gloria Cubana Gloriosos with my partner Ron whilst enjoying a dram or two of our exclusive Robert Graham single malt range.
Our shops also received allocation of the limited edition H Upmann Magnum 46 jar ( 30 cigars) which can only be described as exquisite. Grab one while you can as there are only a tiny amount available.
I also visited my cigar stores in Liverpool and Chester which were busier than ever.In fact Turmeaus in Liverpool should go in for a competition "how many customers can you cram in a tiny cigar shop"! it was positively buzzing!
I only manage to get around to all our cigar stores every few months these days but love to rummage through the humidors to see what goodies I can find. I even managed to snag a few Ramon Belicosos on this trip…DEE LICIOUS !
Have a great week
Peaceful puffing
Mitchell