I have declared this week a Bolivar week 🙂 One of my very favourite brands (For certain sizes at least) and have been enjoying an excellent rotation as follows: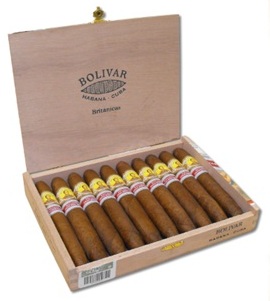 Breakfast smoke with espresso – Bolivar Corona Junior
Lunch time smoke with a glass of wine – Bolivar Belicosos Finos cabinet Selection 2009 vintage. A sweet full flavoured smoke.
After dinner smoke with a dram of single malt the perfect choice Bolivar Petit Belicosos by my fireplace. Sheer heaven. Full flavour and full strength. The Single malt is perfectly balanced with this powerhouse limited edition from 2009
…and in between it had to be Bolivar Britanicas one of my favourite regional editions and exclusive to the UK (Sold out by our importers so you would need to hurry to stash some away) Great shape, great size and perfect Bolivar old style blend, full flavour, medium strength, earth and spice.
I love the flavour of Bolivar and I love the depth and dimension in the blend, when they are good they are great.
To make my Bolivar week complete, I enjoyed lunch at 5 Hertford Street with a good friend who graciously gifted me the Chinese regional edition Bolivar Distinguidos. Helluva smoke 🙂
Michelle is taking a break for a couple of days, no doubt exhausted after a week of photographing well over 300 Auction Lots for our June 10th sale .
We have a superb selection of Aged, Mature, Vintage, Limited edition, Pre Embargo, Dunhill and Davidoff boxes, cabinets, humidors and jars to knock down on the evening and I'm delighted to announce that Balvenie have kindly offered to do another excellent whisky tasting as part of the evening. Add Boisdale Canary Wharf wines, canapés, hospitality as well as C.Gars Ltd English Market Selection Havanas and I think it's fair to say that we are going to enjoy a wonderful event.
Tickets available on this link.
Cigar auction catalogue will be online and in print around 4 weeks before the sale.
Inka – Secret Blend Petit Coronas and robustos have completely sold out yet again – Sorreee but will be arriving next week. If you can't wait, try Bandolero great value and great smokes!
I'm overseas late next week again herfing in a sunnier climate (I hope) then back for a few days and off to Peru to test out some new blends and approve new packaging for additional range of Inka – Secret Blend cigars (Finally happy to report that we have received our trade mark for this brand… All very Dragons Den 😀)
My Twitter account and my Facebook account are in competition to see who can get the most followers so if you are not already following me… You know what to do 🙂
We have whisky and cigar tasting evenings planned at Robert Graham – Cambridge for May and June, if you would like to be put on the mailing list, drop me a line sales@cgarsltd.co.uk
Taking pre orders now for 'Partagas – The Book' expected at the end of this month. Order early to avoid disappointment.
Following the Budget, prices have been increase but not by much as we have absorbed the price increase as much as we possibly could. Don't forget, we guarantee to offer the best prices in the UK. We have HUGE inventory and deliver rapidly. We are also online 24/7 – Every day of the year so if you need any advice or suggestions or want to tell us something that we are doing well or something that we can improve on we are always happy to hear from our clients and friends. sales@cgarsltd.co.uk
Have a smokey weekend
Peaceful puffing
Mitchell