Last day in the office for a week or so as I leave the rainy, windy weather of London and head to sunny Los Angeles 🙂 A little R&R and a little work on Inca – Secret Blend project, destined for the US market sometime in the near future. My kinda vacation, sunshine and smokes 🙂 Mainly Davidoff short perfectos which have become sort of a go to smoke when I'm in the USA, great size and shape, sweet blend and always a perfect draw
A warm welcome to Liam, our newest member of staff at our Norfolk offices. Liam's brief is to ensure that our products have the best prices in the UK and to check all competitors 7 days a week 🙂 So if you find a lower price that he's missed  just shoot us an email and we'll gladly price match or make our prices even lower! <insert maniacal laugh>
Liam's line Manager, James from our Marketing Team has been having fun putting together some wild mixed box and unusual box offers for our newsletter subscribers this week and we have been amazed at the popularity with orders up 40%! Certainly keeping my London Team busy packing and shipping, we couldn't even see the door for packages yesterday!!!
Our Rose street Edinburgh branch has had the walk in humidor rebuilt band it's now double the size so it has a bigger range of cigars than ever. Hope to have some great photos for the website from lovely Manageress, Jo. In the next 24 hours.
Jo and Danilio are passionate about cigars and are always on hand for some helpful advice and recommendations and our shop has a great as well as quirky range of single malt whisky as well as a comprehensive range of pipes and pipe tobacco.
Our little Mayfair outpost is also going through a retrofit with the addition of new cabinets over the next week or two just to make it a little more cute than it already is. Mayfair may be small but it has a super range or premium cigars including many of the limited editions past and present. (It also sells pipes, tobaccos and single malt whisky and you can sample in store!)
I was invited by my old chum Robert Emery to have a smoke at the new Dunhill shop at 1 St James's earlier in the week and all I can say is WOW. What an absolutely splendid humidor, sampling lounge and shop. Classier than classy, super comfortable and a great range of aged and rare cigars too. Well worth a visit if you are in Town and C.Gars wish them all the very best for a long and successful future.
Yesterday was my annual briefing at Hunters & Frankau headquarters which as always was interesting and exciting as we were updated about all the planned releases of new cigars (some still top secret!) for this year, but after a very long afternoon, Michelle and I found ourselves in an even longer traffic jam due to the train strike/rush hour/rain/mad drivers! We persevered and just about made it on time for  some serious herfing at The Wellesley with some overseas clients and friends.
One of my Pals offered me an incredible Dunhill Ramon Allones Seleccion Suprema No. 82 pre embargo which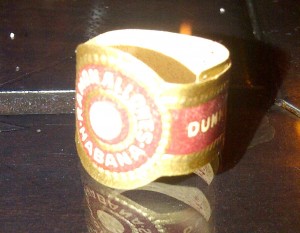 I can tell you I nubbed till there was just about nothing left! This cigar was so sweet and complex even I was amazed how perfect a smoking experience it was. Possibly one of the best Havanas I have ever smoked. It's all down to storage of course 'colder and dryer' slow down that maturing process and its incredible how the cigars improve over the long term (always assuming good vintage in the first place as a bad vintage will only become an aged bad vintage cigar)
We followed the Dunhill Seleccion with Cohiba BHK54's which are smoking like a dream and paired them up with some excellent Argentinian Malbec. I reckon the Wellesley staff must be some of the best trained in the business, right up to 'Master of Cigars' exams passes. They are always on hand to advise and are a really good bunch of Guys.
Ok that's the news for now and I'm outta here to pack my perfectos and my sunglasses!
Have a smokey weekend
Peaceful puffing
Mitchell