What a wonderful week! Kicking off with our most successful auction since we started the auction department in 2009. The Winter Vintage Cigar Auction was held on Monday afternoon at The Bulgari Hotel. 359 Lots were offered and most of the Lots were sold within or above the estimates with total revenue in excess of £650,000 this may well be the most successful commercial cigar auction in history
The Auction was conducted by our C.Gars consultant auctioneer Jonathan Humbert in his inimitable manner and the room was packed to capacity with an international crowd of cigar collectors, connoisseurs and aficionados. Simultaneously the sale was broadcast online through our auction website so absentee bidders could bid live online as the auction was taking place.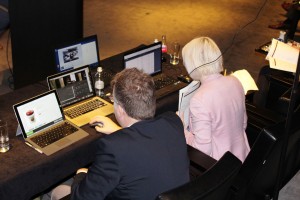 There were in fact over 250 online bidders (another record) and at various stages the online bidding was so intense, the room bidders could not even get in on the action. The catalogue was very impressive with a good balance of limited editions, mature, vintage, Davidoff , Dunhill and a huge Pre Embargo section.
Exchange rate may have caused an effect on some of the results as Davidoff prices looked like good value in Sterling terms however the Dunhill Estupendos Lot went stratospheric at £6,000 equating to almost £700 per cigar after fees!
The star Lot was a pre embargo cabinet of 100 Romeo Invencibles sold for £30,000.
Other highlights included a magnificent La Corona cabinet of 120 cigars sold for £12,000, Cohiba Sublimes Coleccion Habanos book  sold for an impressive £4,050, Cohiba Gran Reserva sold for £3,000 and Davidoff 5000 sold for £3,750
Post auction hospitality was enjoyed at the Edward Sahakian cigar sampling lounge with delicious canapes, Montecristo Medias Coronas and Bolivar Belgravia to smoke and some of Robert Grahams finest single malt whisky. My thanks to Mike Choi for making sure all of our guests had such a lovely evening and my thanks to the C.Gars auction Team for all of their hard work. All in all a splendid event.
Our next auction will take place on the 28th February 2016 and this will be an online auction only. Email Laura and the Auction Team if you would like to have Lots considered for entry at auctions@cgarsltd.co.uk
I'm relieved that the auction is over and successful buyers are already collecting their cigars as well as having them shipped because we can't move for Christmas stock in our London humidor! Take a look at the 4000 plus products on my website… Everything is available including the largest range and stocks of premium cigars in the UK. (yes, I'm fairly certain that we are the largest cigar specialist in the UK!)
Tuesday and the partying continued, this time at our annual Cigar Smoker of the year event at the wonderful Boisdale Canary Wharf. C.Gars Ltd are co – sponsors and we assist in organizing the wonderful cigars at this annual event, we also donate Lots to the charity auction and my co – director Karyn was having fun bidding (and winning!) in the silent auction for some rather expensive bottles of single malt whisky!
To say the dinner, drinks and entertainment not to mention the service from the Boisdale crew was magnificent would not do justice to this wonderful event. C.Gars had a table of 16 chums who thoroughly enjoyed the evening with many commenting that the atmosphere this year was the best ever and the evening flew by in seconds.
The Lifetime achievement award went to Burt Reynolds, The Cigar Smoker of the year award went to Jonathan Ross, The Lanesborough won the cigar terrace of the year, Habanos SA won the manufacturer award, James Leavey won the cigar journalist award, 1A St James's won the retailer award and Arturo Fuente Don Carlos Reserva Superior Robusto won the cigar of the year award.
Congratulations to all the nominees and all of the winners.
My thanks to Ranald, Barbara, Valeri and the Boisdale Team for such a splendid evening, can't wait to do it all again next year…
In other news this week I'm happy to say we received our drinks licence at our new Turmeaus- Knutsford store and we plan to open fairly early next week. We are licenced not only to sell by the bottle but also by the dram so clients can sample drams from our wide selection and decide which best suits their palate as well as which whisky best compliments their cigars. I'll pop some photos up on my next blog. The walk in humidor should have a range to rival our flagship Chester Turmeaus and La Casa del Habano and the sampling lounge will be super comfortable.
I'm very excited about our expansion in the North West as this fills a hole in the map for us although we still have further expansion plans in the very near future. I remember when I bought the first Turmeaus shop in Liverpool many years ago and what a sorry state it was in. People said I was bonkers and cigar retail doesn't work in Liverpool but of course they were wrong as this is one of our strongest locations with substantial expansion planned for next year. Turmeaus has survived since 1817 and has thrived since C.Gars took over the business and revived the brand. Now trading in London, Norfolk, Liverpool, Chester and Knutsford. I think I have proven the business model… and had a lot of fun doing so!
I can't wait to kick back this weekend at least for tomorrow as I'm back in the office on Sunday. C.Gars London and Norfolk are indeed open and operating 7 days a week 34 hours a day and boy do we need to this month as our mail order sales levels have hit record highs this year. See what our customers say about us here. I have a baggie full of BHK 56's ( more or less sold out now sadly) as well as Boli Belgravia (I love this smoke) and a few H. Upmann No. 2 Reserva as a bit of a treat. I'm going to grab a bottle of Cigar Malt to compliment the smokes.
I'm in London next week and then I head up North for a week at the Turmeaus shops… I can't wait 🙂
Have a smokey weekend.
Peaceful puffing.
Mitchell