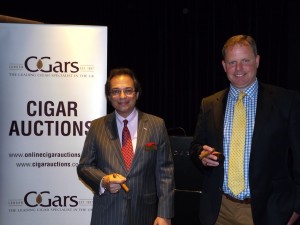 What an incredible vintage cigar auction! I think this is the first time that anyone has combined a physical auction with an online auction and I was delighted that the bidding platform we created in house worked as well as it did.
Auctioneer Jonathan Humbert offered 302 Lots of aged, rare and unusual cigars and sold all but 15 Lots on Monday evening with most of the unsold Lots being sold at low end estimate immediately after the sale taking the sale rate up to 99% which was fairly impressive.
Pre Embargo prices seem to be scaling new highs as I predicted they would a few years back. The quality of the Pre Embargo cabinets was quite breath taking with pungent bouquet and magnificent wrappers. A box of Dunhill Tubos in pristine condition sold for a record £8000 including premium.
The top selling Lots were:
| | | | | |
| --- | --- | --- | --- | --- |
| | | Estimate | | Sold For |
| Lot 294 – Ramon Allones Coronas de Lujo | | £12,000.00 | | £20,500.00 |
| Lot 234 – Davidoff Chateau Yquem | | £11,000.00 | | £11,000.00 |
| Lot 296 – Romeo y Julieta Coronations de Luxe | | £10,000.00 | | £10,500.00 |
| Lot 264 – Partagas 155th Anniversary | | £7,250.00 | | £9,010.00 |
| Lot 271 – Cuban Embassy Special Edition | | £5,000.00 | | £8,500.00 |
| Lot 32 – Cohiba Lanceros | | £4,000.00 | | £8,010.00 |
| Lot 285 – La Flor Fernandez Garcia Originales | | £6,000.00 | | £7,800.00 |
| Lot 259 – Dunhill Tubos | | £2,000.00 | | £7,110.00 |
| Lot 282 – Hoyo de Monterrey Nacionales | | £5,000.00 | | £6,800.00 |
| Lot 273 – H.Upmann Perfectos | | £6,000.00 | | £6,500.00 |
We held the auction at The Bulgari which was a fabulous venue, super slick professional service from Mike Choi and his team and an excellent post auction herf in the Edward Sahakian cigar lounge. On the menu were Partagas SD4's, Juan Lopez Seleccion No. 2 and Montecristo Petit Edmundo washed down with Robert Graham award winning Ben Nevis single malt whisky and delicious canapés which were all very welcome after the 3 ½ hour auction sale!
My thanks to all the bidders that attended and of course my auction team for organizing such a great event.
As ever there was a post post herf in my lounge at home with my regular cigar smoking chums which went on till very late. We switched over to Partagas P2's which are smoking exceptionally well at this time and a few drams of Dalmore Cigar Malt.
We are now starting to plan our Winter auction sale which will be help on the 30th November. We are further developing our auction platform so online bidders will also have the option to select audio and visual should they wish. That way they can 'feel' the action of the auction room.
Prospective sellers should contact my auction team with details of their cigars on auctions@cgarsltd.co.uk but please be aware that if you have just returned from a holiday in Cuba with a box of Cohiba Esplendidos… We are not interested! (the clue is in the name ' Vintage Cigar Auction'!)
On to the next exciting event and today is the Hunters & Frankau Summer party and introduction of the Ramon Allones 225th anniversary humidor and cigars. I'm fairly certain that by the time these reach our warehouse and shops on Monday they will be all but sold out. This could well be the fastest selling new cigar I have ever known. Oh … and it's not hype … the cigars are delicious, well matured and crafted to perfection.
My assistant Michelle will be attending the party and will give a full run down and some great photos no doubt, especially if you follow us on Facebook. I'm not attending the party as it's my Fathers birthday so I'm afraid I have another party to attend 🙂 So I'll wish everyone a fabulous time at the H&F party and I'll wish my father a very happy birthday.
My father is not only my best friend but also my favourite herfing partner. We were in business together when I was a lot younger and had barrels of laughs together and continue to do so today. We started the birthday celebrations last night with a family dinner at a fabulous restaurant followed by cracking open some Bilecart Salmon 1989 and a box of Davidoff Dom Perignon 1989, which was sublime. Tonight we have another dinner planned and I have a rather incredible cabinet of Davidoff Chateau Yquem that I have been saving for the occasion.
The celebrations are continuing on Sunday with Father's day on Sunday! So a bit of a Dad spoiling weekend, and why not? After all, my father is the reason for my success in the cigar business as well as my enjoyment and appreciation of a fine cigar. I remember snagging cigars from his humidor when I was a teenager (I'm sure he secretly knew!) and I have fond memories of going to cigar shops with him when I was a kid to top up on his stocks as well as buy me cigars when I was a bit older.
Have a smokey weekend.
Peaceful puffing
Mitchell