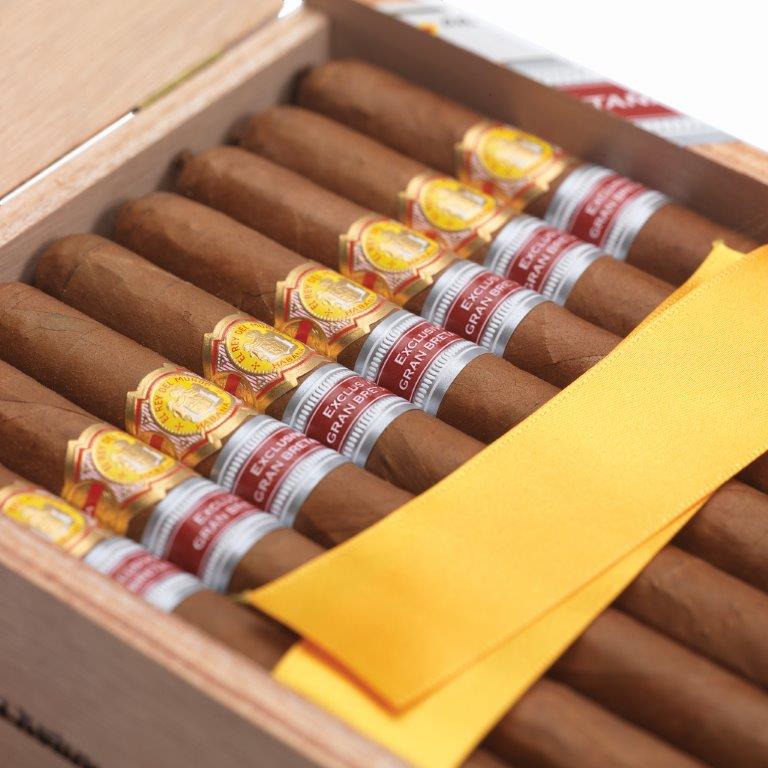 Can't wait for the El Rey del Mundo launch event at The Churchill Hotel this evening. I can't remember such a buzz about a cigar release since Talisman. We always get a generous allocation from Hunters & Frankau as we are of course the most successful cigar specialist in the UK, but even with a generous initial allocation its looking like we will be sold out before the cigars even reach our humidors!
These splendid El Laguito rolled Lanceros are presented in cabinets of 24 and we offered for pre-order around 10 days ago making this one of the fastest selling cigars we have ever known. Our La Casa del Habano will have them a day before our Turmeaus shops and C.Gars mail order and we will be shipping out as fast as we possibly can!
The event this evening will also introduce the H&F aged cigars releases as well as a super special limited edition humidor containing all of the UK Regional Editions (apart from La Reina) since the program started. It is indeed a work of art and beauty and I'm looking forward to getting these into our humidor.
I'll be heading over to the lovely Garden Room at The Lanesborough to smoke a few more of them after the event 🙂
Our Summer auction was a great success with a 99% sale rate and some very robust pricing achieved for our sellers.  I think the main factors for the strong pricing is the weakness of Sterling as well as strong bidder interest from the Far East. The catalogue was splendid in terms of range and quality and estimates were reasonable with motivated sellers. Congratulations to all of the winning bidders. For those who have not collected… please do as we are running out of space! For the bidders we are shipping to, thanks for your patience, we will be clearing through all auction shipping over the next week or so.
Our next vintage cigar auction will be held at the end of September and we are already considering lots for eligibility. Email the Auction Team for advice at auctions@cgarsltd.co.uk and check out the comprehensive FAQs page on the auction website.
I spent a lovely afternoon and evening at Turmeaus Late Hour Cigar Shop & Sampling Lounge Liverpool on Sunday for a Davidoff staff event where members of our retail and warehouse teams were presented with certificates for completing the second part of the Davidoff academy course. Well done team! We paired up Davidoff Entreacto and Millennium Robusto cigars with Remy based cocktails and then moved on to Puffin' Rooms for the Sunday Blues set and an excellent lunch laid on by our head chef Chris and his assistant Matt.
I can't wait to get back to Liverpool for the next event I'm attending on the 16th July our guest of honour is Jonathan Drew and we will be sampling pre-release Drew Estate Orchant Seleccion cigars paired up with a flight of the finest Stalla Dhu single malt whiskies. It will be an evening to remember!
Quite a crammed program of events this month; details on this link.
If the weather forecast can be believed we are in for a few weeks of warm sunshine… perfect herfing weather 🙂
Have a smokey week,
Peaceful puffing,
Mitchell