Just back from the 15th Habano Festival and if my memory serves me correctly, this is the 13th that I have been privileged to attend. I reckon it is also my 60th trip to Havana since 1997!
The Festival celebrates different brands every year, sometimes because a new brand is being launched or re-launched (As in Vegueros) or the brand is celebrating an anniversary. New cigars are also introduced (Though not usually released immediately) to the cigar trade.
It's also the perfect opportunity to meet up with friends every year (Suppliers, retailers, aficionados, connoisseurs and the Press) from all over the world to enjoy the best cigars and rum in the world.
After a glass of Champagne in the Virgin lounge at Gatwick we boarded a jam packed flight to Jose Marti airport. The passengers were all tourists as I travelled last Thursday whilst most Festival attendees leave a few days earlier. Cuba has become a huge holiday destination no doubt due to the good weather (Generally), music (Everywhere!), cigars, rum and friendly people.
I'm frequently asked what I have noticed has changed over the years and I usually struggle to notice any significant difference (Except the drinks are more expensive!). This time though I did notice that customer service seemed to be far better than ever at most places I visited. I was also staggered by the increased amount of vintage American cars on the roads which I  believe is due to the government allowing private taxis to operate.
I stayed at the Hotel Nacional as usual. Perhaps not the most luxurious hotel in Havana but the perfect meeting place. I can herf on the Terrace day and night and keep bumping into friends that I know. When the embargo finally ends and an International hotel chain stamps its mark on the Nacional I believe it will be the finest hotel in Cuba.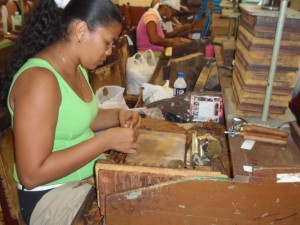 I visited (Read that as "Smoked my way round!") a few of the cigar shops including Partagas, Melia Habana. Nacional. Melia Cohiba, 5th y 16th, Habana Libre and Palacio and was surprised that they were not bursting full of cigars in the humidors although they all had a reasonable selection of regular stocks. It's a shame there is rarely anything… Rare, in the shops for the Festival as they have such a captive audience for the Festival week. Not sure I understand why.
My favourite remains 'The Robaina shop' at the Melia Habana Hotel. The cigar storage is quite perfect and the staff take great care of clients and clients cigars. The lounge is comfortable with a well-stocked bar and there's a great range of rums as well as Yolanda rolling fresh custom blends. The Italian restaurant 'La Bella Scala' is very close to the shop and the food was pretty good with the best service I can ever remember in Havana.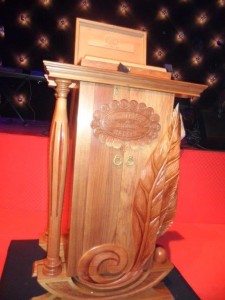 I went to the cocktail party at the Melia Cohiba which was a packed event – Cocktails/canapés/very loud music and a good crowd of cigar aficionado's. Somebody bid 6000 Pesos at their auction for I believe a Hoyo humidor which was an astonishing price!
Montecristo brand introduced the new Petit no.2 and Double Edmundo with their new distinctive bands (Vast improvement). I have tried both of these cigars and look forward to them being released into the market. The Double Edmundo is sure to be very popular (6 1/8" length and 50 ring gauge) and was quite delicious. The Petit no.2 measures in at 4 3/4″ length and 52 ring gauge and will be a welcome addition to the range.
Vegueros are being re-launched in tins and I understand will be in the UK market at some stage.
My friend Amir introduced his new book on Partagas at the trade fair and I can't wait till we have them available in the UK. A huge amount of work has gone into this incredible 270 page book which is a must for every cigar aficionado.
The trade show at the convention centre was the busiest that I can ever remember it and the Habanos stand was showcasing the specialities in the range current and future. I mooched around all the antiques stands but only managed to find a couple of photos, few Ramon jars, a Siboney Tronquito and a Romeo Barelito.
I did manage to find a fabulous humidor manufacturer based in Pinar del Rio who we have commissioned to make some special humidors for upcoming anniversaries of C.Gars Ltd and Turmeaus Tobacconist. I'll be inspecting the prototypes when I head to the Partagas Festival in November.
The factories tour was a bit too crazy for me and I gave up after visiting the Upmann factory. Partagas factory seems to be an art gallery at this time and operations have been move to the 'Pollack' building.
I did manage to have a splendid tour of El Laguito where I bumped into Ana Lopez (Previously Cuban Director of Hunters and Frankau) who kindly introduced me to Jorge Luis Fernandez Maique from Habanos S.A. as well as Danny Glover who was one of the guests of honour at the Festival. (The other was Boris Becker)
Production was just getting rolling (Pardon the pun) at this time of year and most of the rollers seemed to be making BHK 52/54 and 56. Plenty of draw testing and quality control going on and the production manager told me that tobacco quality was quite excellent so I have high hopes for this year's box codes. Tour ended with a complimentary cigar and coffee in the smoking lounge which was delightful.
The Gala dinner on Saturday evening was, I have to say the most 'slick' event I think I have ever attended at any Festival. I had a lovely crown on my table including my smoking buddy David, Danny who worked for C.Gars Ltd Mayfair but is travelling now for a few months, Simon Chase and Chris from the fabulous Cuban Cigar Club in Newcastle
The evening was dedicated to the Partagas brand and we enjoyed smoking Serie D no.5, Serie D no.4, Serie E no.2 and Partagas Gran Reserva throughout the evening. Our Hunters & Frankau table was in pole position at the front so we had a great view of the stage and the nonstop singing and dancing entertainment which was about as good as it gets.
The star of the evening was the Partagas Gran Reserva. This could well be one of the richest, smoothest creamiest cigars I have ever smoked. I can't wait for it to be released (5000 cabinets of 15 cigars)
Simon Chase did his usual splendid job as auctioneer and raised some £900,000 for the Cuban National health service knocking down some fantastic and breath-taking one off humidors.
Sunday evening I was invited to Club Fumadores at LCDH Miramar (5th and 16th) for dinner dinks and smokes. Excellent crowd, Partagas P2's and a great way to spend the last night in Havana.
The Virgin lounge at Jose Marti has a smoking room so I managed to herf a BHK 54 pre-flight… How civilized! Upper class cabin on the flight was filled with H&F people! David, Simon, Jemma and Sean. Back to London and the traffic was pretty awful from the airport so I relaxed with another BHK 54 🙂
Unfortunately the weather left a lot to be desired as it was fairly windy with the odd spot of rain now and again. Hopefully better weather in November for the Partagas Festival. Our travel partners at Cuba Welcome will be putting together a program for the Festival and you can email Mike Mirecki or C.Gars Ltd for more details
Back to sunny London and it's good to be back in the office, I smoked another of my Partagas Gran Reserva this afternoon and my impression had not changed since Havana. Truly a 100% rating from me.
Next week I'm off to Basel for retailers meeting with Davidoff which I'm looking forward to.
Peaceful puffing
Mitchell