WHAT'S IN YOUR HUMIDOR?
UK Cigar Scene
---
What's In Your Humidor?
This month we popped in to speak to Mitchell Orchant and discovered two cigars which most people will have anticipated were all either smoked or locked away in collector's humidors. We sat and talked and smoked one of the first cigars, the Punch Serie D'Oro No. 1 with Mitch and it was superb. Smooth and very cultured, a perfect aged cigar straight out of his humidor. As usual all of the cigars we feature are available in singles at the time of going to press.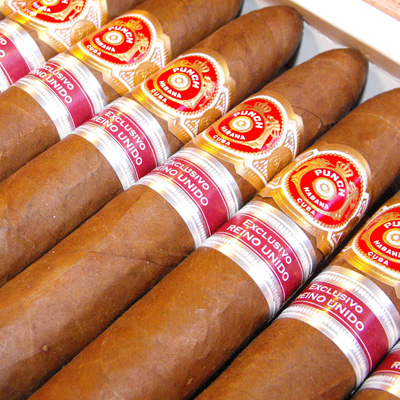 Cigar 1
Punch Serie D'Oro No. 1 (2008 UK Regional Edition)
52 Ring Gauge, Length 6 1/8"
"This cigar was made to recreate a cigar which Simon Chase found in a 1929/30 price list from Melborne Hart & Co, who at the time imported the Punch brand. At that time they had three figurado shaped cigars which they were bringing into the UK: the Punch Serie D'Oro Nos 1, 2 and 3. The interesting fact is that when Simon was looking for this information he found it in the Museum Section of the C.gars web site. As a result of this link I decided to take quite a "strong position in these cigars and I'm delighted to say we still have a few boxes left and they are smoking perfectly."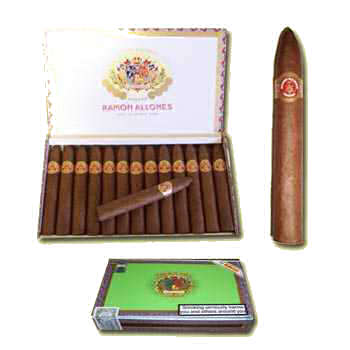 Cigar 2
Ramon Allones Belicosos (UK Regional Edition 2004)
52 Ring Gauge, Length 5 1/2"
"A second Piramide and the first of the UK Regional Editions. We have seen these with box codes from 2004, 2005 and the best of all, the great 2007. It has a full flavour with a very 'rustic old style' Ramon Allones Blend. It has aged wonderfully and is a great cigar"
Web:
www.cgarsltd.co.uk
- UK Cigar Scene
Read the full article here
Return to the Publicity Page