Our Cigar Auction Dinner event will be held at the fabulous Boisdale in Belgravia on the 1st December. The event is almost sold out so book early to avoid disappointment.
The action starts at 4 pm. with the finest Havana cigars and drinks on the cigar terrace and the auction will commence at 5 pm.
After the auction we will be enjoying the latest UK regional edition Por Larranaga Sobresalientes with drinks on the cigar terrace before we sit down to a sumptuous 3 course dinner with superb wines to accompany.
After dinner we shall retire to the terrace for whisky, cognac and cigars.
For a superb cigar evening and an exciting auction event this is the one you won't want to miss.
Tickets can be booked online here

Whether you are looking for a box of very special vintage cigars such as Pre Embargo and Cuban Davidoff  (44 Lots of Cuba Davidoff!) to top or your collection or just a special box of mature or limited edition cigars to enjoy over Christmas we have plenty to consider with almost 350 Lots being auctioned by well-known auctioneer Jonathan Humbert.
Visit the Auction website here

Highlights of this sale include:
Cubatabaco 1492 humidor of 50 cigars
Low end estimate £24,000

Davidoff Chateau Yquem cabinet of 50 cigars
Low end estimate £6000

Romeo y Julieta Coronations del Luxe cabinet of 125 pre embargo cigars
Low end estimate £12,000

Partagas Selection A cabinet of 25 cigars from the 1960's
Low end estimate £10,000

Santa Cubana Magnificos cabinet of 100 pre embargo cigars
Low end estimate : £15,000

All Lots are now available for viewing by appointment at our London offices. Simply drop us an email at sales@cgarsltd.co.uk
If you are unable to attend the auction we are always happy to provide condition and provenance reports by email. Simply email quoting Lot numbers. auctions@cgarsltd.co.uk
In other news…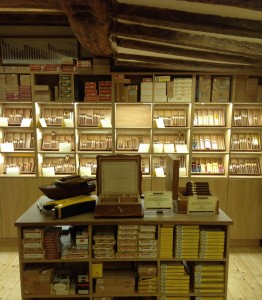 We finally (a month late) completed and opened the doors on our fabulous La Casa del Habano – Chester. Situated next door to our Turmeaus Tobacconist shop our La Casa can best be described as heaven for the Havana cigar aficionado and connoisseur. We have just about every Havana cigar available in the UK in every type of presentation. A mouth-watering selection of singles, 3 packs, 5 packs, boxes of 10, boxes of 25 and cabinets of 50.
We also offer exclusive LCDH Havana cigars and if you have a search through the huge walk in humidor you will find some very well matured cigars.
Our VIP area features whisky sampling room and a delightful range of single malt whisky and Cuban rum as well as client lockers of course.
I created a cigar sampling lounge that has super comfortable leather sofas and armchairs with newspapers delivered daily, Bloomberg TV, complimentary espresso and soft drinks. Our humidor manager Calum is one of the few cigar specialist trained to 'Master of Cigars' level and is always delighted to advise as well as be your cigar sommelier.
Meanwhile we are close to completing Turmeaus Tobacconist – Norfolk ( also a month late!) and hope to be open in the next few weeks with an unrivalled range of both Havana and New World cigars and the largest selection of Pipe tobacco in the UK at the best possible prices.
The builders are also crashing away at Turmeaus Liverpool. One shop will be exclusively offering premium cigars and select range of single malt whisky whilst the other shop will offer a superb range of pipe tobaccos and continental cigars. Should all be up and running by the end of next week.
… and we are already planning our next Turmeaus Tobacconist shop acquisition!
This Sunday is the Spectator Cigars Awards event at the magnificent Boisdale, Canary Wharf. Our first awards event was last year and if that was anything to go by this will be an evening to remember. I can't wait!
Next week I'm off to Havana for the annual Partagas Festival. My favourite trip of my travelling year as I meet up with fellow cigar aficionados from all over the globe… And I get a little sunshine too
Have a smokey week
Peaceful puffing
Mitchell